Some people have a hobby of not having a hobby.
So –
The List:
Fern Collecting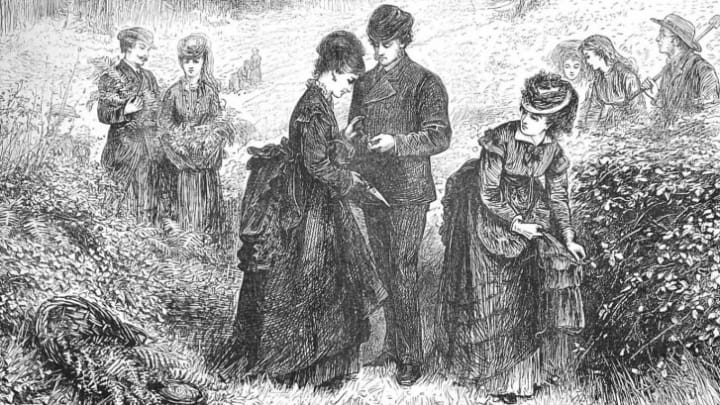 An illustration – The Illustrated London News, July 1871.
19th century fern fever caught England by storm – it was almost as tramatic as teh Rona.
Official name: pteridomania. The phenomenon took off in 1829 when a British botanist named Nathaniel Bagshaw (Bugphuquer) Ward started cultivating the plants in glass cases (later known as Wardian cases; today we call them MJ's office). Soon enough, Victorians around the country were hunting desirable ferns to grow in their own homes. The hobby was especially popular among women, perhaps because it offered them a socially acceptable excuse to be outdoors unsupervised. Bitches be crazy…
BEETLE FIGHTING
Choose different types of beetles to fight against each other. Beetle fighting enthusiasts of course are extremely interested in watching beetles breed breeding different species of beetles for fighting.
STONE SKIPPING
Yes it's exactly that. The current record holder managed 51 –
Diatom Arranging
Victorian era biologists arranged diatoms on glass slides using strands of hair. Check it – elaborate kaleidoscopes . Some microscopic designs—which often included butterfly scales and insect scales as well as algae—incorporated thousands of individual components onto a single slide. They had excess time.
NEWSRAIDING
This consists of appearing as a bystander in the background of television shows.  It takes resolve, planning skills, and perfect star-alignment to call this a hobby and not just stalking.  The great newsraider, Paul Yarrow, from the UK has appeared in lotsa broadcasts.
COMPETITIVE DUCK HERDING
This hobby is destined to become a Hostage favorite –
(btw – XBrad makes a cameo in this one)
Roamy featured a song about chlamydia yesterday… so i'll just add to it:
btw – if you don't like this song you're obviously raciss.
later.
95 Comments
Sorry, the comment form is closed at this time.