Well, the first line of the Wikipedia entry for Miley Cyrus is a bit of a shocker. Did you know she was born, Destiny Hope Cyrus? I had no idea she had a legacy cracker name to live up to. I love when people name their kids Charity, Patience, Neveah, or some other pseudo Christian thing. You know their dad smokes a lot of pot, says 'welp' a lot, and mom has ass antlers.
Anyway, she's a ho but she's my ho. You guys made me claim her so I'm going to defend her to the death because that's what we do as conservatives – we defend bad things until better ones come along. Looking at you GWB.
My ho was born in 1992 in Franklin Tennessee (of course) and is 28 years old. By my reckoning, she's the same age as everyone on the big blog and most of the people here. In two years she'll be older than all of us. Mind blown.
Early life: Her parents called her Smiley because she smiled a lot but then shortened it to Miley. Cute! And stupid!
2006-2009: She was Hannah Montana which I think is a show about a teen singer. Not sure, need to check with xBrad.
2010 – Present: Following her early career she decided to try to be a ho. Things went well for her and she punctuated each of the past 10 years by letting people take pictures of her snootch, wearing large gentlemen's sausages onstage, doing a lot of drugs, and getting weird tattoos that look like a toddler drew them on her with a pencil.
Currently she is resting on her massive fucking pile of cash estimated at $160M and now I want to kill myself.
The end
Please update this post with messages telling me to fuck off or your favorite pictures of Miley.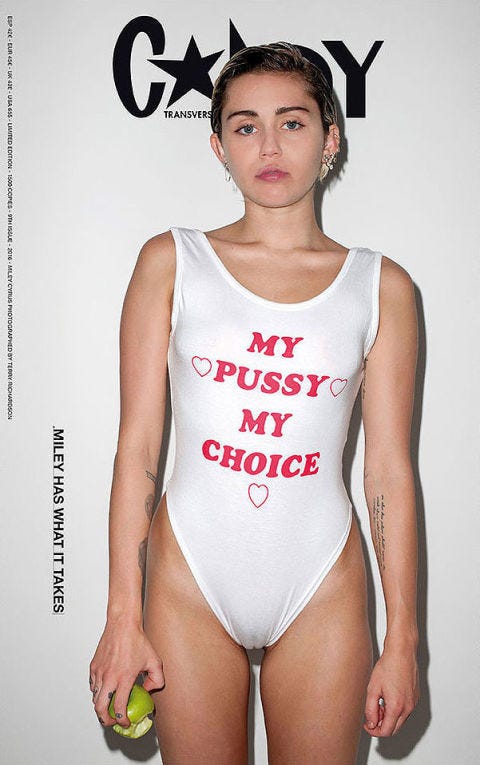 153 Comments
Sorry, the comment form is closed at this time.